Management & Workforce Development Services
Duran Consultingsm offers workforce development services for businesses of all kinds, as well as for professional associations, trade and membership organizations, and academic institutions.

These services help client organizations manage change, increase management effectiveness, build employee engagement, increase retention, enhance employer-employee relationships throughout the organization, and fulfill their missions.
The Services.
Duran Consulting's workforce development services include motivational workshops and seminars to generate the trust, collaboration, high expectations, and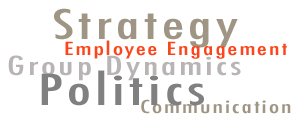 dynamics that each client organization requires to grow and maximize its potential.
These presentations are coupled with individual coaching of employees critical to the accomplishment of the organization's goals.
The process is geared toward enhancing team performance and building an esprit de corps
— so that organizations and their individual employees or members succeed. The process, including the workshops and seminars presented, are geared to address the unique needs of each client organization. A workforce development program typically begins with a short questionnaire and interviews with management and team members to identify issues. The program continues with interactive sessions, coaching, and counseling designed to address, clarify, and resolve those issues, address the client organization's needs, develop processes, and identify next steps to advance the organization's agenda.
"It was vintage Alexandra Duran – knowledge, anecdotes, and humor beautifully mixed to educate, entertain, and inspire."
Seminar Participant, former Banker, current Business Leader, and Academic
"With very sensitive, pointed, hard-hitting workshops, she pulled the group back from the brink, got the individuals involved to examine real issues and talk openly, and helped the group begin the rebuilding of a strong leadership team. Ms. Duran has helped us with a number of difficult situations and she has delivered each and every time."
College President
Duran Consulting workforce development programs can help businesses, organizations, and institutions of all sizes:
Develop consensus, adopt shared goals, and increase commitment to the organization at all levels

Address the psychological aspects of career management

Build trust and team spirit

Identify and manage the resolution of critical issues

Develop productive and efficient relationships within your organization and between your organization and its customers, vendors, and service providers to minimize the cost, delays, and other issues caused by difficult clients, customers, and staff

Identify and Implement best practices for workforce development and management throughout your operation

Develop rainmaking and negotiation skills

Comprehend and manage organizational dynamics


Achieve performance excellence by your staff